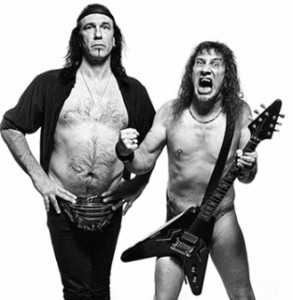 Dressed in S&M gear, playing a guitar with a sex-toy and driving a huge festival crowd wild with pure metal-rock. That was Anvil and frontman Steve 'Lips' Kudlow in the early '80s, practically inventing the metal scene that would take the decade by storm.
And then? Nothing…  As Metallica's Lars Ulrich and Guns N' Roses' Slash explain on longtime fan Sasha Gervasi's documentary, Anvil! The Story of Anvil
, the band's first album Metal On Metal
was ripped off by everyone on the scene. "You've gotta be at the right place at the right time," growls Motorhead's Lemmy. Anvil weren't. Somehow, fame and fortune just never happened.