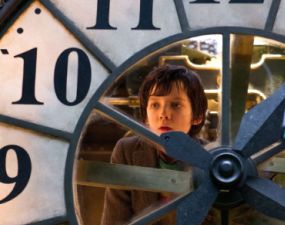 For once, no one gets whacked, stabbed in the neck with a pen or beaten to a bloody pulp. For once, it isn't that kind of 'Family' movie. In fact, the film most unlike anything Martin Scorsese has ever made is really the most personal of his career.
Swooping from the sky through tumbling snowflakes, volcanoes of steam and crowds of travellers, Hugo's exuberant opening shot arrives at a pair of peering wide eyes. Hugo Cabret (Asa Butterfield, The Boy In The Striped Pajamas) is a 13-year-old orphan (aren't they all?) who lives behind the giant clock in a Paris train station in 1931.
We spend almost half the film scampering after Hugo – as Scorsese's camera whooshes joyfully through a labyrinth of ladders, shafts, cranks and cogs – without ever seeming to get very far. He's chased by the orphan-hunting station guard (Sacha Baron Cohen), he's trying to fix a broken automaton left by his father, he's bullied by a grumpy toy-shop-owner named Papa George (Ben Kingsley).
But, after about an hour of this busy meandering, Hugo finally gets where it's going. And what's revealed is something rather wonderful: an enchanting, funny, heartfelt love-letter to immortal French film pioneer Georges Méliès – and to cinema itself. We see how Méliès took movies to the moon and back in 1902, how silent cinema's filmmakers were magicians who can still make us smile and gasp, and how precious things are lost between the grinding gears of technology and time.
There's something truly perfect and poignant about using cinema's breakthrough 3D technology to reach back into its past – and Scorsese revels in it. He shows us how the Lumière brothers' famous Arrival Of A Train At La Ciotat terrified audiences in 1895 by sending a runaway locomotive thundering through the screen in 2011. From Edwin S Porter to Harold Lloyd, from Cabiria to Fantômas, Scorsese (quite literally at one point) riffles through the history book of cinema. He's Doc Brown, time-travelling, taking us with him.
But for a film that hangs off clockwork imagery, Hugo is way too mechanical for most of its over-cogged 124 minutes. A seat-squirming runtime, duff romantic subplots and repetitive chase scenes mean it's never the marvellous children's adventure craved by Hugo's bookworm friend (Chloe Grace Moretz). Almost fittingly, Hugo's wordless parts work best. Kingsley's expertly balanced turn is full of buried pain and pride, much subtler than Cohen's accent and Butterfield's slightly tense performance, which falls short of the Cinema Paradiso wonder that Scorsese is shooting for.
But it's easy to see why Scorsese has overindulged here. Despite being set in a storybook Paris, Hugo's story is secretly Marty's story: growing up watching the world through his window frame, falling in love with movies, restoring the reputation of his hero Michael Powell and becoming the patron saint of lost cinema. Moving images, indeed – but Hugo never fully manages to make them resonate.
RATING: ★★★★★
Based on Brian 'cousin of David' Selznick's award-winning children's novel, Martin Scorsese's 3D debut is a technical marvel whose heart is tediously scaffolded by too many (non)working parts. But for anyone who loves cinema – who really loves cinema – it shouldn't be missed.